Superior Auto Body Saskatoon has been in business since 1961, and we have been an SGI APPROVED Autobody shop and have been SGI accredited since 1982. There are many reasons we have so many loyal longstanding clients from all over the city, but mostly it is the small, personal touches that we offer to people who have been unfortunate enough to require our services. We offer newer model courtesy cars and vans for our clients.. and to help out we will also pick up your vehicle and take it to your SGI appointment for you and deliver the courtesy car to you at home. In our latest Saskatoon Autobody and Collision Repair Tips article, we discuss 5 tips to drive safe this summer.
5 Tips to Drive Safe This Summer By Superior Autobody
Owning a car is one of the biggest purchases most people will make. However, unlike owning a house, a car is not an appreciating investment. It is a depreciating asset which means it loses value over time. Here are 5 tips to drive safe this summer from Superior Autobody.
1. Keep A Well-Maintained Car – Tips To Drive Safe
Every day you take your vehicle on the road, you contribute to its wear and tear. You need to be a responsible car owner in order to extend the value of your vehicle. Maintaining a car is more than just keeping it clean. You have to make sure it is in fine, road-worthy condition, some key tips are:
Check water levels every 2 weeks.
Make sure the tires are inflated to the proper temperature.
Never let the gas run down to near-empty levels.
Check the levels of the following car fluids: engine oil, brake fluid, coolant, washer fluid, radiator, transmission and power steering.
Keep track of your car battery expiration date.
Make sure the power windows, rear and side mirrors and dashboard lights are working.
If you notice something wrong or unusual with your car, don't take any chances. Bring it right away to your nearest mechanic or car repair shop.
2. Wear Your Seat Belt
It seems odd that in this day when commercials and reminders of the importance of using the seat belt are on rotation on every type of media, some drivers and passengers still refuse to buckle up. Don't be complacent because your car has air safety bags. Car accidents remain potentially deadly even with increased safety features.
This is especially important for passengers who stay in the back seat. If the car gets rear-ended by another vehicle that is travelling at high speed, the passenger becomes a projectile who could either hit the driver or go through the windshield. Either proposition should be enough to make you put on your seat belt the moment you enter the car.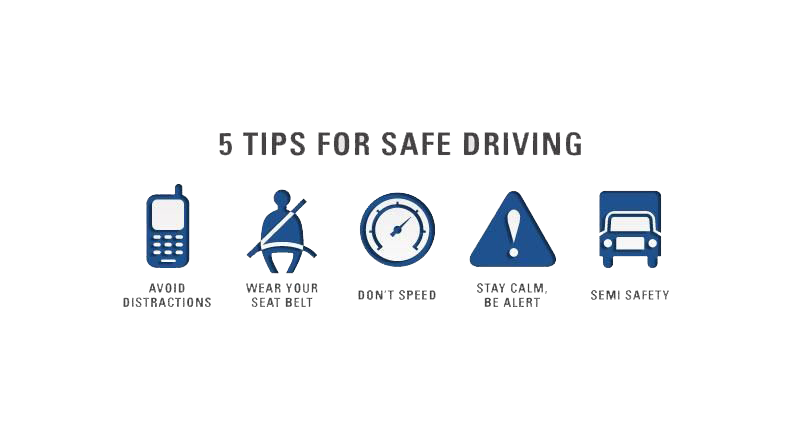 3. Keep Cool On The Road
A car is a heavy machine made often of solid steel. It is a marvel of engineering and the latest technology. can give one a sense of empowerment and invincibility.
Behind all the computer processing and gadgetry that goes on inside your car, the human organism remains in complete control. Your car will function the way you want it to function.
That is why incidents of road rage and physical altercations happen almost on a daily basis. Some drivers let the sense of empowerment get to their heads.
When another driver does something that makes you feel disrespected, it is not worth your time and energy to find ways to respond in kind. Not all drivers are of sound mind. Don't be one of them.
4. Master Defensive Driving
You should focus explicitly on what you can control from your end. There are drivers who are not well versed in proper driving etiquette or have a clear understanding of the rules of the road.
In some countries, when you signal that you want to move to the right lane, the car behind will suddenly accelerate to make sure you don't get ahead of them. Then there are drivers who don't understand right-of-way and just careen their vehicle through an intersection.
There could be other reasons why the driver handles their car that way. They could be a beginner; there could be an emergency or it's just someone who is having a bad day. It is not your concern to find out why drivers drive the way they do. Your only focus is to make sure you practice safe, defensive driving.
5. Don't Text and Drive
There is a market for apps that prevent people from texting or answering phones while driving. Why? Because multi-tasking while driving is proven to be very dangerous; it takes your focus away from the road, others on the road and from handling your car properly.
This is the reason why many countries have passed laws that prohibit using your mobile phone while driving. In some countries and provinces, the penalties can be very severe. They include indefinite suspension of driving privileges, a monetary penalty and even jail time.
Another example of irresponsible multi-tasking is grooming while driving. Women are often caught putting on makeup or fixing their hair while their cars are still in transit. Men are sometimes caught putting on their necktie or shaving while driving.
When you're driving, you should focus only on the road that is in front of you and if you get in any collision or accident, contact Superior Autobody for all your vehicle repair needs.
If you've been involved in a collision and are looking to restore your vehicle back to its original form, contact the team at Superior Auto Body Today. We are a Trusted Saskatoon auto body and collision centre.